I'm the pen, you are the highlighter. I draw my world, you make it brighter.
88
x

14
x

102
I don't know wh
posted 4 years ago by I don't know wh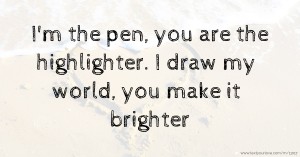 Pin it
Previous text message: "Flowers die, plants usually dry, moments come and go but a person like you will always be remembered in this heart of mine. Love you!"
Next text message: Love or hate must constantly increase between two people who are always together, always fresh ideas for loving or hating"