My lips tingle before your kiss. The feeling in my hands go numb before you touch them. Everypart of me freezes. When your in the room. It's overwhelming.
65
x

13
x

78
Doelovesrobby
posted 6 years ago by Doelovesrobby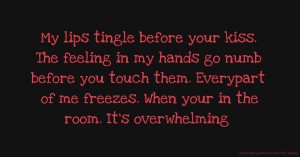 Pin it
Previous text message: "I was going to say you're amazing but I guess I don't need to repeat myself huh"
Next text message: When flowers and trees die.. My love will not. Breathe into me steal last my breath. My love your life is in my hands. I'll never forsake you even in death."