I know you could never love me. The way I love you. We're both from two different worlds; but, my love won't stop. I won't forget how you touched my life so.
37
x

6
x

43
Doelovesrobby
posted 7 years ago by Doelovesrobby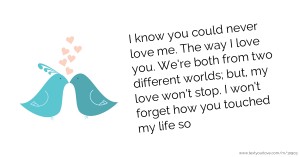 Pin it
Previous text message: "Your smile makes me crazy. The sweet, small things you say. Spark something beautiful within me; but, you don't know how you affected me...so,so deeply."
Next text message: You could be cruel. You could be kind; but, I know I get to call you mine. I will never let go. No matter how hard you tried or fought to escape but you don't."