Our love is so strong in which God made it like a hurricane; there are no enemies that will enter that will not be taken away by a violent wind.
68
x

14
x

82
Royalstar58
posted 4 years ago by Royalstar58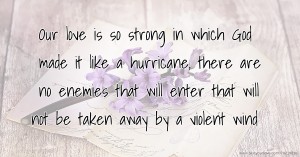 Pin it
Previous text message: "My love for you is meaningless, that's why we have no reason to separate. My love for you is unrated, that's why enemies can't buy it."
Next text message: Talk without offending....,,Live without depending....,Watch without defending..,and Love without pretending, that is the status for love"