I love you in the morning, in the middle of the day, in the hours we are together, and the hours we are apart.
3
x

1
x

4
love is amazing
posted 4 years ago by love is amazing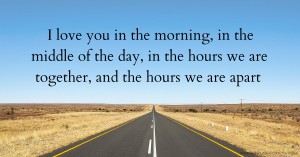 Pin it
Previous text message: "You left me without any fault...still I am searching answer why you left me? Wish you had thought about me...."
Next text message: A guy's mind is like an abstract painting. They're deep, complex and mysterious.They know what they want and who to love! They're everything that a woman loves!"