Never say goodbye because goodbye means going away and going away means forgetting...
3
x

1
x

4
rocky raj
posted 4 years ago by rocky raj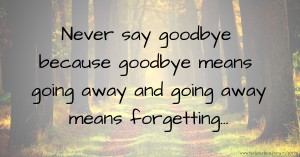 Pin it
Previous text message: "I admire your Beauty, I love your manner, I adore the way you beautifully dress, you make me happy being the girl' I am, You're my girlfriend'... and I love you."
Next text message: I write your name in the sky but clouds cover it up. I write your name in the sand but the current washes it away. I write your name in my heart and there it shall stay"