No matter how sad I was ....I feel very happy when I remind you in my memories. .. .and rewind the memory 100 times a day. In which I first met you.....
5
x

2
x

7
by gss
posted 5 years ago by by gss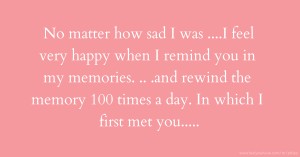 Pin it
Previous text message: "God puts certain person in our lives for a reason, and whatever God had in mind for bringing you into mine, I don't really mind. I'm just thankful He did!"
Next text message: Roses are Red and Violets are blue. I was made sexy so what the hell Happened to you ♡"