Well, I am an unemployed adorable person with a certificate in kissing, a diploma in caring and a degree in loving. So what job you will you offer me?
188
x

49
x

237
shenoy
posted 6 years ago by shenoy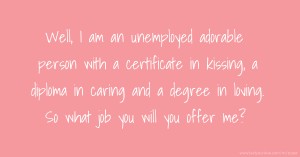 Pin it
Previous text message: "Good friends are like stars, you don't always see them, but you know they are always with you."
Next text message: Since the first time I saw you, I knew we had a connection that nothing could break. All the things we've been through have made it stronger. Forever and always"