If every time I missed you a star would fall from the sky, the sky would be empty.
14
x

4
x

18
Lovebug <3
posted 7 years ago by Lovebug <3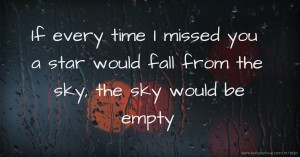 Pin it
Previous text message: "All of you.... The sound of your voice is music to my ear So soft, sweet, and clear The kiss from your lips words can not explain"
Next text message: We cannot be together, But we'll never be apart, For no matter what life brings us, You're always in my heart."