When you feel alone, just look at the spaces between your fingers, remember that in those spaces you can see my fingers locked with yours forever.
7
x

2
x

9
Ronnie
posted 8 years ago by Ronnie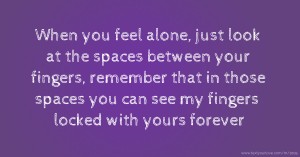 Pin it
Previous text message: "Who better to share your dreams with, than the person you dream about?"
Next text message: I can't drink Red Bull. If I did my heart would grow wings and jump out of my chest and fly strait to you!"