My love for you is more than the distance between us. I love you and I will always love you baby.
138
x

25
x

163
Enock Kitty Mit...
posted 5 years ago by Enock Kitty Mitch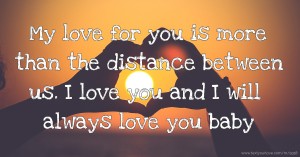 Pin it
Previous text message: "I miss your lively eyes, your cheerful smile, your warm hands, your soft lips, the sweet words and your sweet voice."
Next text message: Hi, I want to say that I wish I was your man and if you are my girl I will take you around the world. I promise I will be loving you forever and ever.."