All I wish is to be with you until death, I wish to love you forever, I wish to kiss you until your mouth gets dry.
5
x

4
x

9
simony kaluba
posted 5 years ago by simony kaluba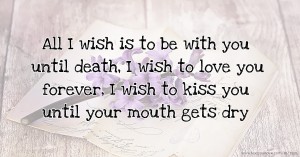 Pin it
Previous text message: "Keep love in your heart. A life without it is like a sunless garden when the flowers are dead. .. ¥ Annamalai mohan €"
Next text message: You may not love me like I love you,You may not care for me like I care for you But if you ever need me, I will always be around for you."