My love for you is indescribable. Therefore, I will spend the rest of my life showing you what you mean to me, my love.
69
x

14
x

83
Stevie
posted 5 years ago by Stevie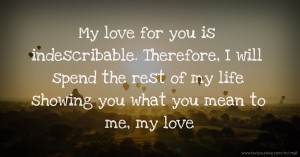 Pin it
Previous text message: "The day I will stop loving you is the day I will close my eyes forever...<3"
Next text message: You played me and had your ace,I hope you forever keep that champion smile on your face"