Believe me when I say my heart cries out to you, in fact, if kisses could be sent in words, you would be reading this with your lips.
118
x

28
x

146
Keasley
posted 5 years ago by Keasley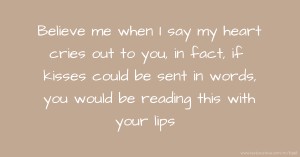 Pin it
Previous text message: "I cannot forget you because you are my heartbeat."
Next text message: The only thing on earth that can convinces me to believe soul mates truly exist, is you."