I asked an angel to guard you as you sleep, the angel replied and said angels don't guard angels, besides she's an higher angel. Love you my angel of angels.
81
x

24
x

105
Kind
posted 5 years ago by Kind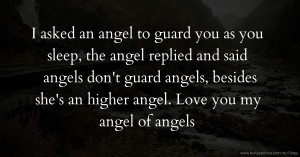 Pin it
Previous text message: "Life the gift of nature, Love the gift of life, A Kiss the gift of Love......."
Next text message: 'I' stopped to pick a meaning of 'LOVE'. Just then,a paper dropped inscribed 'YOU'. A voice whispered, you're the best meaning of love."