Hi baby endless love nothing in life cud bring u as much joy as d moment we created, d day i met u, and d beautiful relatnshp we build 2geda i wil eva love u.
3
x

2
x

5
Toma
posted 5 years ago by Toma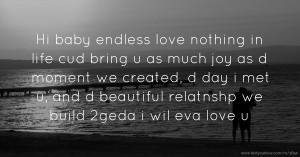 Pin it
Previous text message: "Your love is like water to me becaouse when i drink water i am wiling to grow inside out as your love is growing big in my heart...."
Next text message: It seems something bind us together, supernatural! The love I have for you is unpredictable....I love you"