Your love is like water to me becaouse when i drink water i am wiling to grow inside out as your love is growing big in my heart....
15
x

9
x

24
Exotica
posted 5 years ago by Exotica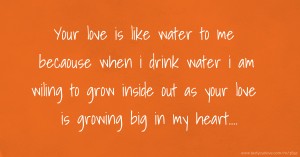 Pin it
Previous text message: "Without the first site of me and you meeting each other there will be no love.. But now your love is like the galaxy to me."
Next text message: Hi baby endless love nothing in life cud bring u as much joy as d moment we created, d day i met u, and d beautiful relatnshp we build 2geda i wil eva love u."