Baby, you're my everything, no one can take you away <3 I love you always and forever <3 know that my life is nothing without you ! <3
138
x

21
x

159
Jonah's babe&lt...
posted 6 years ago by Jonah's babe<3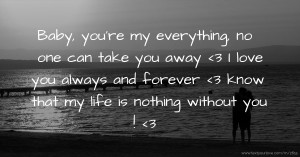 Pin it
Previous text message: "Baby i love you! I could never flush you away, ur my favorite turd of all!"
Next text message: memories are made & they never fade...that is how i want our love to be...always N forever!! muahz <3"