So there's this girl. She's beautiful, funny, has a great personality and guess what? She's reading this right now.
1213
x

173
x

1386
<3
posted 6 years ago by <3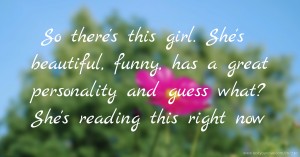 Pin it
Previous text message: "When you left me a tear drop fall into the ocean...... the day you will find that drop think that i have stopped loving you...."
Next text message: Boy: how much do you love me Girl: I would tell you but I can't :( Boy: And why is that? Girl: cuz words can't explain my love to you 3"