I hate you but i don't know y i keep on thinking about you, it seems i still love you oh no. "its unbelievable"
1
x

0
x

1
Fahimah Yusuf
posted 2 years ago by Fahimah Yusuf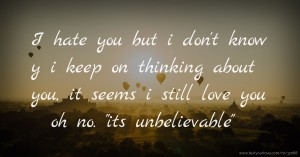 Pin it
Previous text message: "I'd tell you I love you too the moon and back but your like my whole universe there and back"
Next text message: Guess a name which starts with F and ends with H. belows its de names meaning? Clever.keen.wise.smart.intelligent.perceptive.innovative.creative.understanding"