Love is not what you think about someone but that which you feel for that someone matters beacause love is a reality between feelings not thoughts.. DTK!!!
3
x

3
x

6
Daniel mulena
posted 3 years ago by Daniel mulena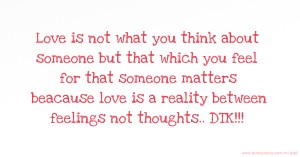 Pin it
Previous text message: "I miss you so much my heart dont beat right"
Next text message: Do you take me to be your lawfully wedded textmate in sickness and in health for poorer for richer in low metering till low battery do us part.:-)"