Being alone is hard to do by sitting all day thinking of the things we use to do making me miss you!!!!
3
x

1
x

4
cristal
posted 3 years ago by cristal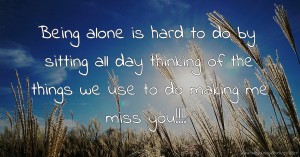 Pin it
Previous text message: "You dont have to wear makeup, darling. youll be just as beautiful as you are with it on."
Next text message: She is my world I dream Makaira I think Makaira I speak Makaira Ilive Makaira I'm in a beautiful world makaira is my world and I love the world I'm living in..."