As kids, I loved to play in the sand with you. As teenagers I loved to watch videos with you. Now as adults, would you love to play my Nurse and I your Doctor?
19
x

4
x

23
MAURICIO ARROYO
posted 5 years ago by MAURICIO ARROYO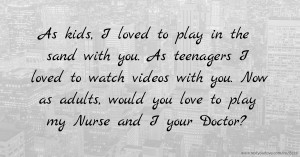 Pin it
Previous text message: "Memories?....what memories?....if you never had love in your heart!"
Next text message: Its 11:11 make a wish It already came true cause im with you."