Babe I love you so much, I couldnt go a day without thinking of you, love me forever and you'll have my heart forever.
6
x

1
x

7
danielle
posted 5 years ago by danielle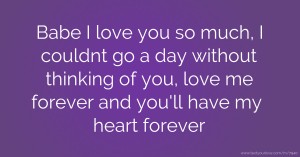 Pin it
Previous text message: "Roses are red yoda is green I need two hands for this light saber if you know what I mean"
Next text message: Roses are red, Violets are blue, Everything I do makes me think of you. You are the sweetest, And the best too, Baby I can promise I'm never leaving you."