No measurement of time will be long enough with youu, so lets just start with forever. I love youu too the stars and back my boo!!
3
x

2
x

5
AliciaaBaby
posted 5 years ago by AliciaaBaby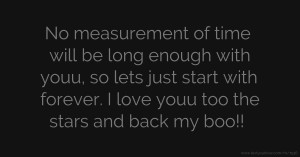 Pin it
Previous text message: "My life without you is like a beautiful vase waiting to be filled with a flower called you... I love you."
Next text message: If ever in your life you'll feel sad feel you've lost everything, I ll come to hold your hand, take you for walk to the bridge and show you where to jump from."