I've been wondering about us, and now is the time I shall ask, will you be my valentine?
70
x

18
x

88
vivian
posted 5 years ago by vivian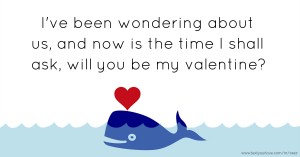 Pin it
Previous text message: "If I can give you on thing in life, I'll give you the ability to see yourself through my eyes. Only then will you know how much you mean to me."
Next text message: Baby you're my love! For us every day is like a Valentine's Day, I'll be loving you till my last breath."