My love for you is like oxygen. I cannot live without oxygen, therefore I cannot live without your love.
146
x

31
x

177
Austin
posted 4 years ago by Austin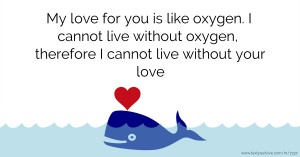 Pin it
Previous text message: "So many things we desire may not come our way, but what God desired for us will surely come. This process is termed 'divine accident', and it happened to us, my love."
Next text message: When I tell you I love you, I don't say it out of habit. I say it to remind you that you're the best thing that ever happened to me."