The first time I saw you, my heart skipped a beat. Your beauty made me feel so weak, my eyes couldn't even blink.
104
x

15
x

119
Prince chummy
posted 5 years ago by Prince chummy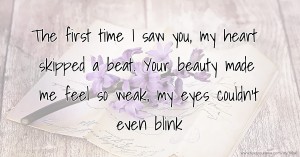 Pin it
Previous text message: "Boy: I'm not a charmer but don't push me. Gal: why? Boy.I can't say you are beautiful, because you're beyond that."
Next text message: You are the only dictionary that defines my life. The desire I see in your eyes lights up my heart. Oh, come into my heart, babe, and feel my heartbeat."