The prettiest smiles hide the deepest secrets. The prettiest eyes cried the most tears. The kindest hearts have felt the most pain.
4
x

3
x

7
walitov
posted 5 years ago by walitov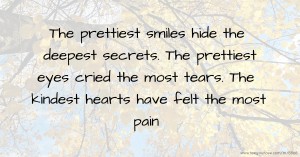 Pin it
Previous text message: "I don't want to give you the wrong impression, I need love and affection and I don't want to sound too desperate I need love and your attention, want you to stay."
Next text message: Hey love! You are all there is to me. Boo I'm here for u til my dying days"