I love you with every second of my heartbeat and with every eye blink paints a beautiful image of you inside my heart, hence I cannot stop thinking about you.
11
x

2
x

13
unknown
posted 5 years ago by unknown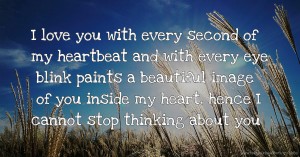 Pin it
Previous text message: "love me for me, not for someone that i wouldn't never be!"
Next text message: Like the tree needs the earth, Like the night needs the moon, Like the star needs the sky, Like the guitar needs the tune, My world needs You..."