Hey love, I don't get how you are exactly my type. You're everything I've ever wanted, oh wait, you define my type, your the girl of my dreams and I'm so lucky.
5
x

2
x

7
Ricebunnycake
posted 6 years ago by Ricebunnycake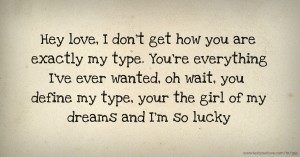 Pin it
Previous text message: "Roses are red, violets are blue, I miss you baby, so come over here soon!!!<3<3<3<3"
Next text message: you are the one i love. you are the one i crave. you are the only one i will love untill i go to my grave"