Last night I wanted to send you a message but all I could write was: ~noh ss!W !~ It only makes sense when u read upside-down!
122
x

22
x

144
Trouble-Maker
posted 6 years ago by Trouble-Maker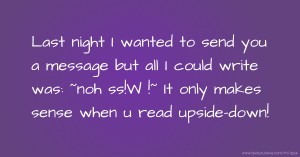 Pin it
Previous text message: "When a heart is troubled,the whole body doesn't function well."
Next text message: If you're alone, I'll be your shadow! If you want to cry, I'll be your shoulder! If you want a hug, I'll be your pillow! If you need to be happy, i'll be your smile!"