Jeanine, the world revolves around your beauty and grace. Perfection does not begin to describe your elegance and majesty. You are beauty incarnate.
0
x

0
x

0
Vir Jeanine
posted 25 days ago by Vir Jeanine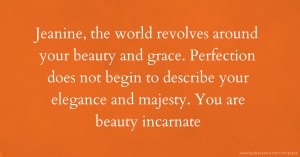 Pin it
Previous text message: "Dad: I have the key to heaven. Son: where is heaven dad? Dad: Btween your mothers leg. Son: I think you shoud change it cuz the neighbor might hve a copy!"
Next text message: A Good Woman Never Dresses Up To Impress Men. She Dresses Up To Irritates Other Woman @MrClayoun"