5 Steps to a Lovely Morning: Open your eyes. Take a deep breath. Throw aside the covers. Get up from bed. And read my message. Good Morning my love.
9
x

8
x

17
Tobi
posted 449 days ago by Tobi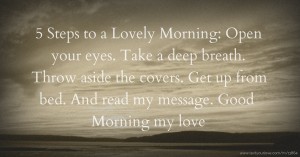 Pin it
Previous text message: "I luv it wen am wit you, I cherish d day I met you,I am happi luvin you,am happi having sum 1 dat understand me.luv you very plentiful dear"
Next text message: There are some things that money just can't buy; like Manners, moral and integrity."