If a girl replies to your message on Facebook congratulationsmy brother, just know you have passed the Profile Pic Evaluation stage.
4
x

3
x

7
Dj Urban Legend
posted 556 days ago by Dj Urban Legend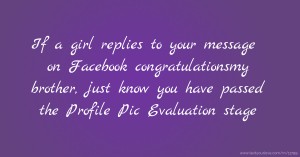 Pin it
Previous text message: "Some Girls Need To Stop Acting Like Clientele Life Covering 13 Guys With 1 Private Part ,its not a Funeral Cover"
Next text message: Rains comes and goes, summer comes and goes, the sun rises and sets. But you are always in my heart because you love me unconditionally"