He's shy. He's quiet, but, his smile is big and warm. There is something so prefect; but, so hidden that I am so in love with. My loving, mysterious man.
3
x

1
x

4
DoelovesRobby
posted 3 years ago by DoelovesRobby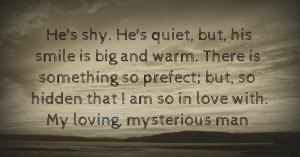 Pin it
Previous text message: "Shed not a tear for my love. I know your feelings for me are strong. Let it remain whole until the very end."
Next text message: Fake love is like rain, you don't know how long it will last and how much will fall"