My sex is deep for. When you open me up with just a kiss. You invite my soul in to make love to yours!
3
x

3
x

6
DoelovesRobby
posted 2 years ago by DoelovesRobby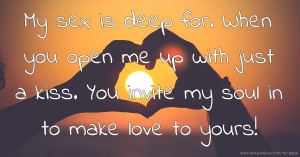 Pin it
Previous text message: "Whether time goes tick or tock. My love for you stays forever the same. Just as strong, faithful and on going through the dark and bright moments of time."
Next text message: When we don't know what to say in the heat of our love. That intense, invisible passion. It still makes love to our heart, body and soul"